Growing up, Cynthia Orofo knew she would do something with medicine.
Her mother, sister and four aunts were nurses, and some uncles were also in the medical profession. She liked seeing her mother and aunt meticulously care for people, both applying their medical training and giving them personal attention.
"I just thought the dichotomy of being skilled as a clinician, but then also being skilled in caring for a human being was so powerful," Orofo, 24, says. "I was like, this is something I can do for the rest of my life."
Orofo, a first-generation Nigerian-American, couldn't have imagined, however, that her journey in nursing would take her to pursue a doctoral degree, push policy recommendations to the White House and become an entrepreneur. With her startup—Culture Care Collective—she won a 2022 Innovator Award, presented by Northeastern's Women Who Empower, in the graduate student category.
Culture Care Collective, a hybrid health support program and app, is slated to launch in collaboration with some Boston-based hospitals by the end of the summer or early in the fall, Orofo says. The program integrates community health workers into hospital clinical care teams to provide the missing link in equitable care delivery to marginalized populations.
"I'm going to dedicate my life to making sure folks that come from Randolph-like towns and cities—that don't have a chance, don't have a pipeline and don't really have a lot of exposure—get that exposure and get interested."
The program aims to increase health literacy, improve disease self-management and reduce unnecessary health care utilization that results from a lack of knowledge, transportation, structural racism or other reasons.
"I do believe this will be a viable long-term solution for people … who are just coming to this country, who have English as a second language, who have low socio-economic status, people who are struggling with drug addiction," Orofo says.
Orofo grew up in Randolph and attended Randolph High where she says some students didn't imagine attending schools like Northeastern due to various barriers. She was inspired by her father, who earned a bachelor's and two master's degrees after coming to the U.S. from Nigeria in the 1980s and not knowing English well or having any family here.
Valeria Ramdin, assistant clinical professor and director of Global Health Nursing at Bouvé College of Health Sciences, first got to know Orofo during a six-week Dialogue of Civilizations program that she led in London.
Ramdin remembers Orofo as a very shy student who had never been abroad. She helped Orofo find a scholarship to pay for the London trip and became one of Orofo's mentors, advising her academically, helping her build character, exposing her to events, and sometimes lending a shoulder to cry on.
"Thinking of where she was, and where she is, is a big difference," Ramdin says.
Now, Ramdin describes Orofo as resilient and aspirational, able to concentrate on the bigger picture and think critically through processes.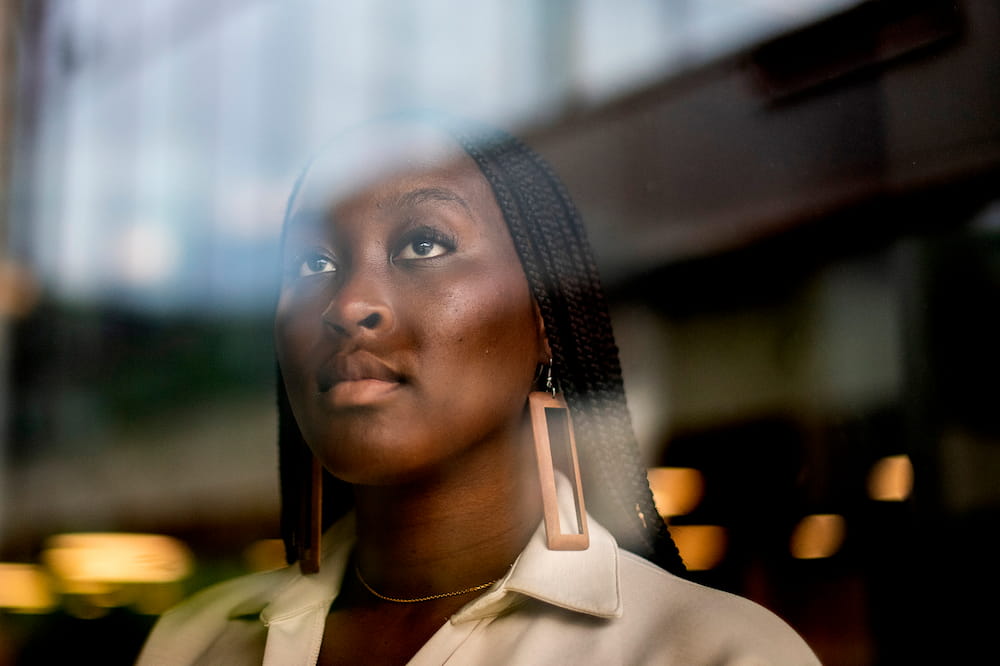 After graduating from Northeastern in 2019, Orofo worked as a nurse in the cardiothoracic intensive care unit at Tufts Medical Center, transitioning to the COVID-19 ICU six months later. She has also worked on the Northeastern Health and Wellness Van for the last five years as a student volunteer first, then as a public health nurse, and now as a Ph.D. student. Engagement with the van helped her realize her love for community health work, Orofo says.
"She understands that vulnerable people need non-traditional support that makes more sense for them, related to their lived experience and culture," says Catherine O'Connor, clinical instructor and director of Mobile Health at Bouvé College. "She has the gift of doing more listening than talking, and she is able to extricate the important information to plan care for patients in a very comprehensive manner."
Orofo sees the patient as an active collaborator in their care, O'Connor says. She calls Orofo a "champion of the underserved" and credits her with helping Black and brown LGBTQ+ community members access pre-exposure prophylaxis, which prevents transmission of HIV.
"She is quiet, low-key and determined. She is fierce," O'Connor says. "She just has that stick-to-itiveness, and she does what she needs to do. She quietly advocates for people."
Orofo thought of Culture Care Collective while an undergraduate student. She says her father, who has diabetes, was an inspiration and guinea pig for the app.
"He is the ideal candidate for Culture Care Collective. He is a person with multimorbidity, English is his second language, and somebody who doesn't really have great health literacy because his degree background is in business," she says.
Community health workers are individuals with basic health training, Orofo explains, who can be an intermediary between the patient and the clinical care team of doctors and nurses. They are able to provide basic health knowledge, coach and facilitate disease management, help individuals navigate the health system, and do all the things necessary to manage their disease.
The COVID-19 pandemic propelled the switch to virtual health care, and Culture Care Collective is leveraging this transition through a mobile app to connect marginalized patients with trustworthy members of the community that look like them and speak their language.
"We hope to shine in implementing this program on a wide scale," Orofo says.
The pilot program will run for three months, which is enough time to solidify disease learning and behavior change, according to research, Orofo says. Community health workers will both communicate with patients through the app and engage face-to-face, going on home visits or to hospital appointments.
In the beginning, the Culture Care Collective services will be financed by the hospitals. The company is planning to transition to working with Medicare/Medicaid in the future.
In December 2021, Culture Care Collective was selected to be a part of the MassChallenge HealthTech 2022 cohort, which provides access to mentorships, collaborations and funding. Orofo met industry experts and government officials from the Centers for Disease Control, Food and Drug Administration, and U.S. Department of Health and Human Services.
"It was an incredible six months to really understand the federal side of things and to understand the need from that end," she said.
As her company grows, Orofo would like to offer volunteer opportunities to middle and high school students from overlooked school districts so they can receive the same mentoring and exposure that she received.
"I'm going to dedicate my life to making sure folks that come from Randolph-like towns and cities—that don't have a chance, don't have a pipeline and don't really have a lot of exposure—get that exposure and get interested," Orofo says.
This post was originally published on News @ Northeastern by Alena Kuzub.